5 Tips for Ensuring Pet Safety During the Holidays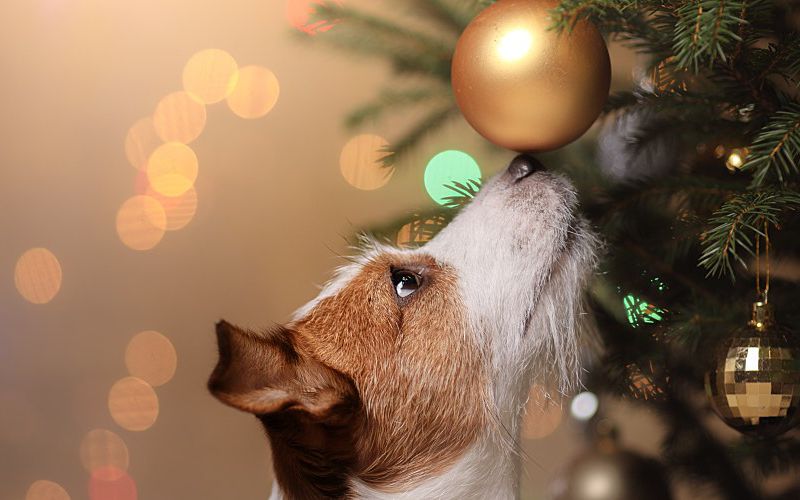 Are you tired of talking turkey, tinsel, trees, and toxins with your veterinary clients? The holiday season can be a joyful time, but it does bring its share of pet safety concerns. You may even feel like a broken record, repeating the potential dangers to your clients.
Yet, despite all your talk about unsafe foods for dogs and cats and dangerous decor, your practice is still seeing foreign pancreatitis and foreign body cases. Perhaps your message is getting lost in the hustle and bustle, but it may also indicate the need to change up your tactics.
Here are five easy and interactive ways to share vital holiday safety tips for pets with your clients.
1. Give Clients Help in the Kitchen
Simply saying "no" to all table scraps may be a recipe for disaster. Rather than only reciting a list of don'ts, assume your clients will feed their pets from the table and offer them some healthy and safe choices to do so:
Share a recipe for success: Find a holiday pet treat recipe that aligns with your nutritional stance, and share it on your practice's social media channels. Many easy, pet-friendly recipes can be made from plain holiday ingredients that clients may already have.
Give free samples: Giving holiday treat samples to pets and clients in your practice can help start a conversation about safe and unsafe foods. Print or email recipe cards with your name, logo, and contact information.
Run an "eat this, not that" daily social media campaign: Highlight a different ingredient in each post, comparing safe and unsafe food options.

"Let's talk turkey! Skinless, boneless turkey is safe for pets in moderation, but letting your pet gobble fat, skin, gravy, or bones can have serious consequences."
"Pig out? Not your pet! Holiday ham is high in sodium and fat and can lead to dangerous pancreatitis. Substitute lean white turkey meat instead."
"Sugar-free isn't guilt-free for pets. Xylitol is a dangerous sugar substitute found in many sugar-free and keto-friendly desserts. Be sweet to your pet with a dollop of xylitol-free applesauce or low-fat plain yogurt swirled with xylitol-free peanut butter."

2. Show Clients How to Decorate Without Danger
Thanks to viral social media posts, many pet owners know some creative ways to protect their holiday decor from pets. Help them identify other common hazards with engaging social media challenges or efforts.
Creative decorating challenge: Encourage your social media followers to submit pictures of their pet-proofed decorations. Give a prize for the most creative holiday pet hack, such as a tree suspended from the ceiling.
Tinsel drive: Explain the risks of linear foreign bodies and ask clients to "donate" their tinsel, garland, and ribbon for the chance to win a prize, such as cat enrichment toys or a discount on services. Display the donations in a translucent box in your lobby and regularly post updates on your social feeds.
Planting guidance: Holiday decoration often brings new plants and greenery into the house, which can be dangerous to pets. Creating a simple social media post on toxic holiday plants—with a clear picture of each for easy identification—may help pet owners avoid a foliage faux-pas.
3. Warm Up Your Cold-Weather Care Tips
Remind pet owners about cold-weather hazards with a "winterize your pet" campaign that includes:
Checking paws during every exam: This gives you the chance to talk about road salt and ice melt.
Grooming advice: Spotlight your groomer by posting a video on winter skin and coat care, including why it's a bad idea to shave a double-coated dog.
Hosting an online fetching fashion show: Post daily tips about the importance of cold-weather gear, then ask clients to share photos of their pet in their winter duds. Have your clinic vote for the winner, who receives a winter-safety prize, such as paw-safe ice melt, a pet-themed blanket, or a reflective collar.
4. Emphasize Pet Safety During Holiday Events
Clients may not realize that fear and stress are common among pets during the holidays. If you're not already educating clients about pet body language during their annual exams, start now. Follow up with a social media blitz about holiday stress and anxiety, with scripts like this:
"You're not the only one worried about your in-laws coming for the holidays. Pets can experience intense anxiety and fear during holiday gatherings. If your pet is nervous around guests, speak with our veterinarians about safe, calming options."
"Happy New BOOM! Fireworks are coming—are you prepared to help your pet stay calm? Refill your pet's anti-anxiety medication now, so they can ring in the new year without fear."
FREE HANDBOOK: How to boost team morale. Candy helps, too
5. Help Clients Dial-In on Emergency Care
Print or order emergency contact cards or magnets with your practice information and phone numbers for the ASPCA Animal Poison Control Center or the Pet Poison Helpline, as well as the nearest emergency veterinary hospital. Or, make a shareable, practice-branded version that clients can print at home.
Talking to clients about holiday pet safety isn't a sprint; it's a three-month-long endurance race. Ensure you don't fatigue during the last leg of the journey by implementing some new and memorable client-engagement techniques.